The Complex Beauty of Simplicity
Dear Wonderful, Creative You:
It happens so often with the "simplest" slow drawing patterns – folks initially dismiss them, but once they do the workshop, they say how surprised they were because they loved the simplicity and found a lot of room to innovate and make it their own.
I get it. Last week's pattern, Cross, was a set of long horizontal lines with short vertical lines intersecting them.
You might ask yourself, "This is so easy, what's the point?"
The simplicity is the point.
The places simplicity leads you are the point. The beauty of simplicity and all the space it leaves for each viewer's imagination is the point. I create all my patterns so that they are simple enough that anyone can do it, but interesting enough that you would want to explore it many times, many ways, and make it your own.
+ Drawing a simple pattern is relaxing
+ Relaxing opens your mind to your own creative ideas
+ Drawing simple patterns can lead to beautiful destinations.
With these pieces, I feel like the pop of yellow color in the circle, along with the black and white of ink on watercolor paper creates a beautiful, simple palette. It's relaxing to the eye. In this collection, I also enjoy the variety in the density of marks, and textures. Presenting simple patterns and swaths of color in relationship to each other can create a big impact.
This is my secret for making art:
I draw.
I paint.
I make marks.
I create patterns.
And then when the mood strikes, I put them together in interesting ways in a journal or a stand alone piece, or I take what I discovered on a small scale and make it big.
In the page above, I've layered watercolor and a simple pattern in the top three layers. In the bottom two layers, I've also added a piece with rice marks and watercolor dots. I think the effect is quite interesting because there's a sense of repetition and variation in the marks, the colors, and the shapes of the cut outs. What do you think?
If this speaks to you, I want to tell you about and invite you to our Watercolor Wonder retreat on November 10th and 11th, live on Zoom. (Update October 5th, 2022 – this retreat is now full, you can check the Live events page in the shop for more live online retreats.)
We will explore watercolor mark making, and layering with patterns in pen.
I will show you how to make beautiful watercolor clouds and swaths of color that will highlight and showcase your drawings.
You'll find your ways of layering simple techniques with spectacular results.
Early bird pricing ends October 13th, but we are already more than halfway full, so if it's speaking to your heart, join us now! You can learn more here: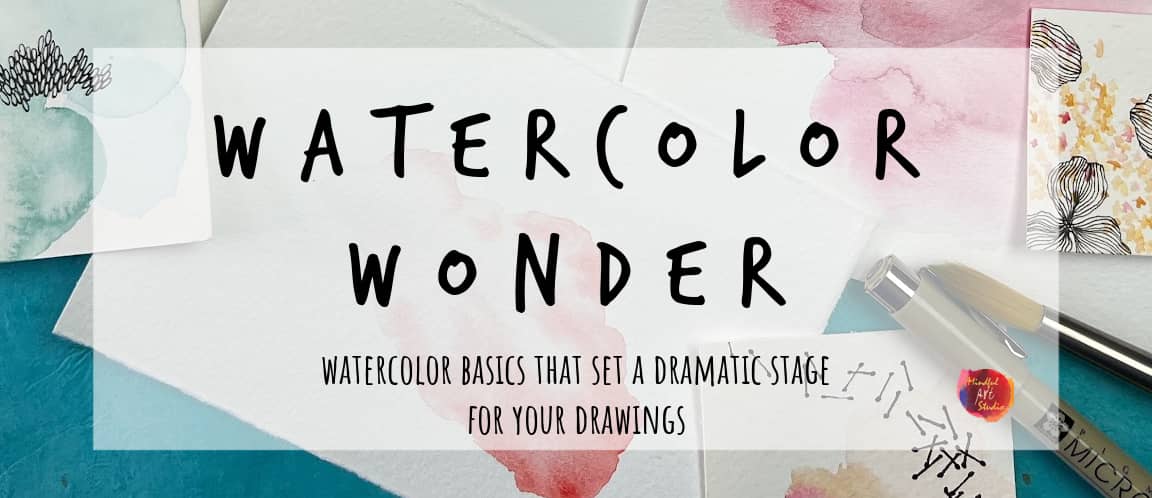 What are your thoughts on simplicity in art? Do you ever create playing with this concept?
Journaling Prompt:
Create a wash of color on several small pieces of watercolor paper.
Draw a simple, repetitive pattern on each card, exploring what feels relaxing or fun to draw.
Write about what you noticed and learned here.
Creatively Yours,
Amy